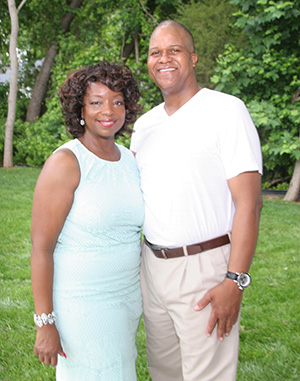 Pink Perseverance, Inc. was formed by Linda Whitlock, a 13 year breast cancer thrivor, and husband, Delvin Whitlock, to bring awareness and to educate women of all ages and ethnicities and their families about the importance of taking control of their breast health.
Linda was diagnosed with breast cancer in 2004 after finding a lump in her breast during a self examination. She was told by one doctor that the lump was more than likely a cyst or another benign tumor and not to worry. However, Linda was not satisfied with his assessment, sought another opinion, and had an immediate mammogram which confirmed that the lump was not a cyst, but in fact, breast cancer. She was diagnosed with Stage 2 breast on May 18, 2004. Linda underwent a mastectomy to remove the lump, chemotherapy, and radiation treatment. A couple of years later, Linda decided to have reconstructive surgery for her right breast.
Since her initial diagnosis, Linda has had a deep desire to assist other women with their journey with breast through education, events, and programs. It is important to Pink Perseverance that women take control of their breast health and to be proactive if they notice anything different about their breasts. Studies have shown that the best method for detecting any signs of breast cancer and treating it is through monthly self examination and yearly mammograms. More and more women are surviving this disease everyday because they were proactive with their breast health. Early detection is still key and vital and could save your life. Pink Perseverance and its founder and co-founder, Linda and Delvin Whitlock, are dedicated to spreading this important message to all women and their loved ones. Perseverance is our strength is the P2 motto.
Linda Whitlock (President/Founder) Testimony
We started Pink Perseverance, Inc. because of our own personal experience with breast cancer. Click here to hear about Linda's journey with breast cancer and advice she'd give to others going through similar journeys!
Pink Perseverance Linda Whitlock's Testimony from Nadere Johnson on Vimeo.