Hand In Hand Program
The "Hand-In-Hand" Program was developed to assist women with healthcare co-pays to purchase pre/post surgery items such as prosthesis, bras, wigs, and other undergarments.
Please click here to apply for Hand in Hand
P2 Cares
This program was developed to give women undergoing treatment for breast cancer a relaxing spa day, a getaway to rejuvenate and enjoy themselves. As the program grows, this program will also assist with outside work and other needs of a patient during their time of transition.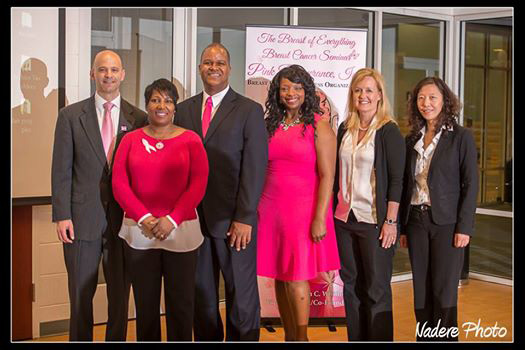 P2 Pink Bags
We will provide bags with all types of goodies to newly diagnosed breast cancer patient to assist them during and after treatment.
Holiday Pink Basket
A newly diagnosed breast cancer patient will be selected each year to receive a Holiday Pink Basket filled with goodies for their enjoyment and to assist women with coping, provide positive thoughts, and encouragement.
Men Care 2
The Men Care 2 program is program developed for men to become better caregivers for the individuals in their lives (wives, mothers, sisters, friends, etc.) currently going through breast cancer to better understand and relate to the emotions, issues, and treatment for those going through breast cancer. This program also focuses on men's health issues regarding breast cancer. About 1 percent of men are diagnosed with breast cancer each year.
Pink Changes Things
This program is designed to collect coin or dollar donations from local businesses and/or organizations who have a passion for the cause. Our Pink Perseverance donation cans can be found in several locations in the Hampton Roads area.
Breast Cancer Support Group
Our Pink Perseverance Breast Cancer Support Group is held via ZOOM the first Tuesday of each month and is designed to assist breast cancer survivors and caregivers going through breast cancer or those who are supporting loved ones going through this disease.  If you would like to attend, you must contact us at info@pinkperseverance.com
Thankful Thursday
Our Thankful Thursday is held once a month via ZOOM and discusses interesting topics such as food, exercise, gratefulness,self care, etc. for breast cancer survivors and anyone interested in attending.  If you would like to attend.  The schedule will be posted here.  If you would like to attend, please contact us at info@pinkperseverance.com.
We are a 501(c)(3), non-profit breast cancer awareness organization dedicated to talking to women and their families about the importance of taking control of their breast health.
Pink Perseverance offers many great programs for you. Please take a look at our offerings and see how we can help!
Pink Perseverance, Inc. P. O. Box 7064 Hampton, Va 23666
(757) 218-5176
info@pinkperseverance.com