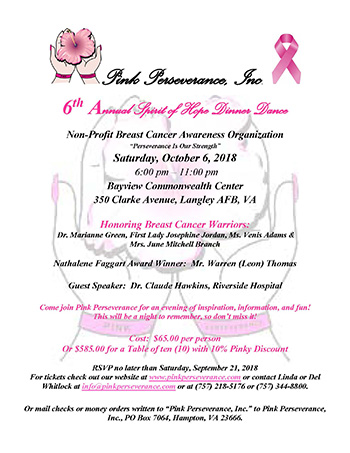 Location
Commonwealth Center, Langley AFB, VA
Time
Saturday, October 6, 2018
6:00 pm – 11:00 pm
Pink Perseverance Program Ad Purchase:
Supporters and guests can purchase ads in support of our 2018 honorees and/or congratulate Pink Perseverance on their 6th Spirit of Hope Dinner Dance.  The Ad purchase prices are as follows:
1.  Full Page – $100.00
2.  Half Page – $75.00
3.  Quarter Page – $50.00
Please purchase your ads below. In addition, please fill at the attached form and email to info@pinkperseverance.com.
Choose Size Ad
Pictures may be submitted with your ad information in JPG form. Ad Payment(s) can be made on our website, www.pinkperseverance.com or submit a check or money order payable to Pink Perseverance, Inc. and mailed to Pink Perseverance, Inc., P.O. Box 7064, Hampton, VA.  23666.
Forms should be submitted by email to info@pinkperseverance.com no later than Saturday, September 1, 2018.
Details
Guest Speaker: Dr. Claude Hawkins, Riverside Hospital
Cost: $65.00 per person or $585.00 for a table of 10 with Pinky Discount
Come join Pink Perseverance for an evening of information, inspiration and fun!