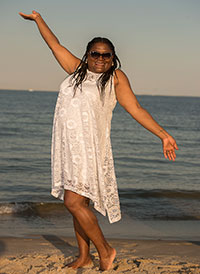 Norma Wells-Green
Norma is a 17-year breast cancer survivor. She says she brought in the millennium by being diagnosed with a rare form of breast cancer called Paget's Disease, which accounts for 1% of all breast cancers. At that moment, Norma's first thought was her family, her husband, Marvin K. Green, whom she has been married of 28 years, and their sons Kevin and Kyle. Norma says her family played a significant role in her survival. Her support systems also included her church, Calvary Community in Hampton, VA., Zeta Phi Beta Sorority, Alpha Beta Zeta Chapter, and her Sensational Shades of Sisterhood Book Club. Norma is a proud graduate of Hampton Institute where she received a BA and a MBA. She is an avid reader and a die-hard Pittsburgh Steeler's fan.
Paulette Watson
Paulette is a breast cancer survivor, entrepreneur, visionary and the founder of Pearls of Promise, LLC. Her vision is to educate women and men about breast cancer health and available treatment options and programs. Paulette is very passionate about breast cancer awareness and education, having won her battle with breast cancer in 2002. She is a third-generation breast cancer patient and the first to survive, as both her mother and grandmother lost their battles with cancer. She believes that education is the key component to breast cancer survival for lower income individuals and the uninsured. Paulette's personal mission is to make a difference in the lives of those who do not know that even amid their storm, they too can celebrate life. She is married to her high school sweetheart, Jerry. Together they share over four decades of marriage, 3 beautiful adult children and their spouses, and 8 wonderful grandchildren. Her family has always been the joy of her life. She calls them the best support system any mother and grandmother could have.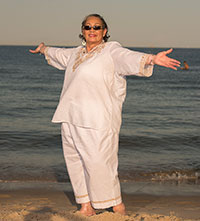 Mary Davis-Everette
Mary is the Chair of the Cancer Initiative under the Direction of the GET Empowered Community Development Corp. Inc., and founder of The Pink Journey Foundation. She is a spokesperson for Susan G. Komen, and a facilitator of The Cancer Prayer Network for Greater Emmanuel Temple (COGIC), which meets the second Monday of each month under the direction of Pastor Michael B. Golden, Jr. Mary is also a counselor to many breast cancer patients, their families and caregivers. Mary has been married 24 years to a wonderful man, Robert L. Everette, who is also a cancer survivor. She has two wonderful children, Cara A. Cameron and Christopher Davis. Her favorite Bible verse is Jeremiah. 29:11, "For I knows the plans I have for you; declares the Lord, plans to prosper you and not to harm you. Plans to give you hope and a future."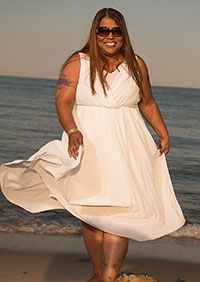 Pauline Gogue Whitlock
Pauline describes herself as an island girl from Guam. She is the Director of Religious Education at Patrick Air Force Base, FL and one of the female contractors that assist Chaplains with counseling suicide prevention and domestic violence. Pauline was diagnosed with breast cancer in 2007, and says that day changed her life.
She is married to Kenneth Wayne Whitlock, and they have shared their lives together for 34 years. She has two very strong children, Paulette and Kenneth Wayne, who have blessed her with three grandsons.
Family is everything to Pauline, and she says they are her strength and her rock. Her passion is cooking and she lives life to the fullest. Pauline's old time favorite scripture is Psalms 23.
Nathalene Faggart Award Recipient 2017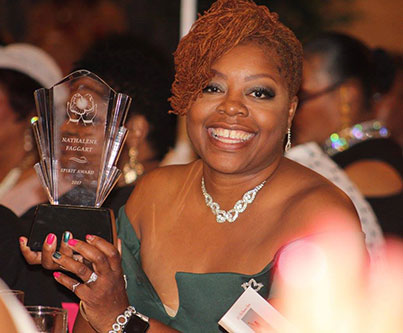 Tresserlyn Jones
Tresserlyn Jones comes to AARP Virginia after two decades of work in the human service and insurance field. She served as a manager of Medicaid operations and health promotions consultant for Anthem Health Keepers Plus, and she has done community outreach through positions with the Peninsula Healthcare and the Peninsula Institute for Community Health. She has been an active volunteer in Newport News, VA and has served on numerous community service coalition boards, including Newport News Healthy Families, Project Immunize Virginia, Making Strides for Breast Cancer-Peninsula, and the Resource Mothers Coalition Board. She currently serves on the Virginia Governor's Council on Aging. Tresserlyn has been helping people and making things happen in communities across Virginia. Two of her largest accomplishments in her local community include her advocacy for Breast Health through the Pink Tea initiative and "Diaper Bank". Born and raised in Brooklyn, New York, Tresserlyn graduated from Cambridge College. She is the proud mother of a daughter, Taylor, who is a graduate of Virginia Commonwealth University and majored in Biology Pre-Med, and a son, Tarin, who is in his second year at the University of Virginia, majoring in Architecture.